TORCH is set to play a concert of original and classic works on November 7th at the Peck School of the Arts Recital Hall, 7:30 pm. The concert is free and open to the public, and should be an exciting debut of the ensemble.
I'm really happy with the way the group has come along since our first rehearsals, and also with the energy that they bring each week when we get together. I hope you can join us for a great concert!
TORCH is the TC-11 Orchestra. The ensemble includes: Chris Burns, Mary Francis, Bill Heinrichs, Brian Lynch, Michelle McKenzie, Adam Murphy, Elliot Patros, Grant Richter, Kevin Schlei, Steve Schlei, Jim Schoenecker.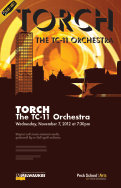 TORCH – Nov. 7th, 7:30, PSOA Recital Hall