The folks at NIME have uploaded the full NIME++ 2010 proceedings. Here is the permanent link:http://www.educ.dab.uts.edu.au/nime/PROCEEDINGS/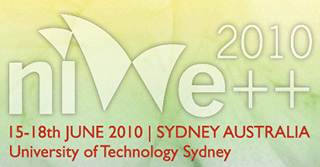 The direct link to my paper is here: 'Relationship-Based Instrument Mapping of Multi-Point Data Streams Using a Trackpad Interface.'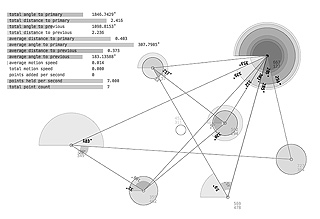 I'm always happy to hear comments and feedback. You can see (old) videos of the instruments described in the paper on my Vimeo page.
There were some notable presentations and projects I'd like to link to from here. Alvaro Cassinelli presented a tracking system that follows the curvature of any drawn or sensed object with a laser, as described in the paper 'scoreLight: playing with a human-sized laser pick-up.' Demo video here.
Ajay Kapur presented his work in organizing a cross-departmental approach to building a robotic orchestra ('A Pedagogical Paradigm for Musical Robotics'). Music and theater students work together to apply their skill sets to the creation of an ensemble where humans and machines perform together. Very inspirational.
Kris Kitani developed an analysis / performance augmenting algorithm for live percussion performance ('ImprovGenerator: Online Grammatical Induction for On-the-Fly Improvisation Accompaniment'). If this were incorporated into the above mentioned robot orchestra, I can imagine some really exciting results.
And finally, Andrew McPherson has brought the piano to its next evolutionary phase with'Augmenting the Acoustic Piano with Electromagnetic String Actuation and Continuous Key Position Sensing'. This one is best understood by watching a video of his elegant system in action.